I grew up in a family of entrepreneurs. My grandfather came back from WWII having learned to waterski in Switzerland while he was on leave. He and my grandmother first opened up a gas station, which quickly turned into a gas station which sold boats, which then turned into a boat and snowmobile dealer, and for decades has been exclusively a full-fledged marine dealer in western Wisconsin. My grandparents worked really hard and were able to create a lifestyle that worked for them, because their business was a part of it.
Five and a half years ago I quit my temp job, tried to open one business (which went nowhere, fast), and then six months later tried teaching German online. It started to take off quickly and I knew I was onto something good. In 2015 I knew I had a solid basis for a business and took a business plan class and a business personality test. Turns out I have the archetypal personality of an entrepreneur. So bin ich eben!
Being an entrepreneur means you have a different view of how things should work, that things should develop quickly because things needn't stand in your way, and also that you can create what I call the culture of your business. The culture of my business is very different than other German classes and lessons and that starts with making this a professional venture. Das hier ist kein Hobby von mir, sondern mein Geschäft! When I approach lessons as an official relationship between the client and myself, the dynamic changes. It becomes a consultation as well as a time and space for learning, trying new things, experimenting, and discovery.
Here I want people to learn to speak German, not just talk about it. Week after week, month after month I hear story after story of people who learned to read German literature in college but they can't hold a conversation in German. Folks show up for tutoring who are in the second class of a hobby-type German class and they're being asked to learn something that's actually at an intermediate level. Das macht mich wahnsinnig! If you are paying your good, hard-earned money (or your valuable student loan money!) to take a German class, you better darn well be acquiring skills for communicating in German. I don't even care if you learn the names of the cases correctly, but that you can get your point across!
I learned German with books, methods, and teachers which showed me the what, why and how of learning to speak IN German. I learned how to communicate in German. This is what I want for you!
In one of my recent in-person German classes one of the students asked me a basic question in German. I responded, he confirmed, and that was it. I didn't think much of it, but from his perspective (and what he told me after) it went pretty much like this:
Student: Soll ich das machen? [I hope that was the right question. I just need to know if I need to do this exercise right here.]
Me: Ja, das ist richtig. Machen Sie diese Übung.
Student: Alles klar, danke. [OMG I asked the right question, she answered, and now I know what to do!]
Me: Bitte.
Student (to class, grinning from ear to ear): I'm really impressed with myself! We just had that entire exchange in German! WOW!
He pretty much had this look about him: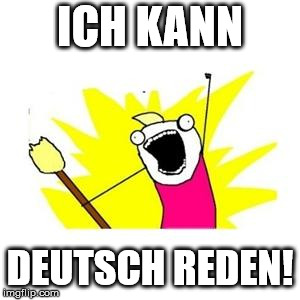 Es war fantastisch!
Whether you come here and read blog posts occasionally, sign up for the newsletter(s), or participate in every single event, I hope you learn some German and have an enjoyable time doing it!
Es macht mir wirklich viel Spaß und ist eine bedeutungsvolle Arbeit, Deutsch zu unterrichten. Ich hoffe, dass Sie weitere fünf Jahre (und noch länger!) hier sind. Sie sind hier herzlich willkommen.
Und jetzt eine kleine Überraschung. And now a little surprise. :-D
Fünf Jahre GermanWithNicole.com und fünf Jahre mit Connor
At the same time I started teaching online I decided it was time to get a cat. I had fostered a cat for a friend for a year and after I returned the foster cat to his owner, I realized I really missed having an animal around. So I went to look at "rescue" cats. I didn't take one home with me that day, but a few days later I realized there was this one cat I hadn't stopped thinking about. His name was Connor.
I was a goner.
The rescue agency approved me quickly and I made the appointment to go pick him up. I took him out of his cage, put him in the carrier, and drove him home. Der Rest ist Geschichte.
It's really, really good to have a cat hanging around while I'm teaching. He sometimes walks right in front of the camera and provides comic relief for clients working on tough grammar topics. He begs to be fed hours before his feeding time, which is helpful when clients hear me tell him "Nein, du darfst noch nicht fressen." They learn a modal verb, how animals eat, etc. Connor sleeps on the floor, on my desk, and on my side table in funny positions. Connor is a companion, a mascot, and a comedian all in one.
You should know how funny he is, too, so I made you a few Connor Memes.
Hier ist Connor "bei der Arbeit".
Manchmal hilft Connor mir bei der Arbeit. Er "organisiert" Papiere, schmeist meine Stifte auf den Boden und läuft auf den Schreibtisch herum.
Wenn Connor nicht auf den Schreibtisch herum läuft, schläft er im Büro. Manchmal schläft er auf dem Boden, was eigentlich für ihn gefährlich werden kann. (Connor likes to live dangerously.)
Weil er eine Katze ist, sitzt er einfach dort, wo er passt. Manchmal ist das in einer Tasche!
Und manchmal sagt er mir wenn es Zeit ist, Feierabend zu machen. Check out at the look on his face!
Manchmal muss ich aufhören zu arbeiten, weil er auf dem Schreibtisch schläft. Dann darf man die Katze nicht stören, genau wie man in einem Hotel die andere Gäste nicht stören darf.
Jetzt, das ich einen Stehschreibtisch habe, schläft er gerne zwischen dem hinteren Teil und der Tastatur. Er will wirklich nicht gestört werden, und bittet mich um noch fünf Minuten Schlaf...
Now I'm going to get some rest, and I hope you do, too. Ich mache jetzt ein paar Tage Pause. Ich fahre Fahrrad, feiere den 4. Juli und ruhe mich aus. Ich hoffe, Sie können das auch machen. Bis bald!
HERZLICHEN DANK FÜR ALLES!
~Ihre Nicole