And How to Use One Realistic Goal
(Really, Just One)
Part 1 of 3

Frohes neues Jahr zusammen!
I hope you're all ready for a new year of German learning, because it is going to be a blast here in 2018! Keep in mind that my 5 year anniversary is coming up in July, so keep an eye out for some fun times ahead (and a give-away!).
Today's post is Part 1 of 3 and there's even a bonus worksheet on day 3! They'll be going out today and the next two days, so be sure to check your email for these bite-size posts. (And Subscribe to Das Blog on the right to get the emails if you don't yet!)
What I won't be doing now in the new year is writing a post like:
"How to make 2018 your best German learning year yet!"
(*Nicole gags.*)
"How to go from Beginner to Advanced Speaker in 1 year."
(*Nicole chuckles.*)
Because that would be dumm wie Brot. Nobody needs clichéd maxims about learning a foreign language—that's why you're here and not on some other German learning website. Those kinds of posts are totally unrealistic! Let's be realistisch and by that I mean let's be German about what we're doing here.
Consider this true story:
A guy who was an absolute beginner once asked if he could get to level B1 in a year, with a 1-hour lesson and 4-5 hours of study time each week. He was married, with a kid, working a full-time job, and he and his wife owned their own house.
Das geht einfach nicht. So I was honest with him and told him it was unlikely he would learn that much German in a year. To go from an absolute beginner to an intermediate-level speaker, an independent user? Highly unlikely.
Yeah, yeah, I know what you're thinking, "Nicole, you became fluent in German in 6 months! That must be possible!"
Under the right circumstances, and a freakish knack for languages, SURE! I wasn't working very much, I had access to German media 24 hours a day, and ample opportunities to shoot the breeze with the Bäckerverkäuferin at my local baker. Plus I definitely have a predisposition for languages. Not everybody has this, and boy do some people have a greater predisposition than I do--some people speak 13 languages?! Geesh!
Are those your circumstances? Ich denke eher nicht.

So stop comparing yourself to other people and set yourself some realistic goals. Figure out what a realistic goal for you is.
These are 3 ways to totally screw up your German learning in 2018, each followed by two suggestions, one a realistic goal for the year and the other a stretch goal that you could reach with the right planning and dedicated execution.
Screw it all up plan #1:
LEARN ALL THE GERMAN.
RIGHT NOW.
Entschuldigung, you want to do what?!
Oh, you weren't paraphrasing this awesome post from Hyperbole and a Half (language warning)? It is pretty epic, but neither can you a) clean all the things at once, nor can you b) learn all the German all at once.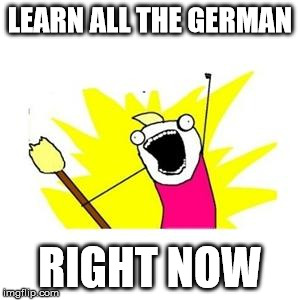 Trust me, I tried.
It hurt.
If you have this habit of wanting to do all the things at once, you will set yourself so far behind you'll actually fall off the German train.
Yes, I tried to learn all the German all at once and I did become fluent in about 6 months, but here's what is missing when you try this method:
Fun
Comradery when you learn with others
Fun
The enjoyment of watching your own learning process grow
Fun
Realistic Goal #1:
NAIL WHAT YOU'RE WORKING ON
With this realistic goal, you'll need to create more effective study time.
This doesn't necessarily mean you need more study time, but perhaps you need to:
find a different time of day to study so you use your peak hours of concentration
shut off all the notifications everywhere
find a different place to study, whether it's a different room, finding a new desk at a second hand store or a study room at the library. (Shut yourself in the bathroom if you have to--you wouldn't be the first!)
shift one or two responsibilities with your partner or roommate
actually put in the time.
This is where most people lack in effort—actually sitting down (or standing at a stand-up desk!) and putting in the time to do German. It's like getting a work-out in, you can't think about it or you'll lose motivation. Just do it. Just do the thing.
When you set this kind of goal, it's important to remember that you only TWEAK what you're doing. Try this for 1-2 weeks and keep a log of it. Write down your feelings and see what information emerges from this log. After 2 weeks, see if you want to tweak it again. Try it for 2 more weeks and see what you discover.
Stretch Goal #1:
REVIEW, REVIEW, REVIEW
We live in a culture of new, new, new, new, new, new, new here in the US.
People throw things away like there's no tomorrow and there's some magical place all the used things go. Everybody wants the newest car, the newest schicky
micky beverage at the national coffee chain, the newest smart phone, the newest social media, new, new, new.
The truth is: our brains weren't made for constant influx of NEW.
If that were true, it wouldn't take so long to learn all those $#@! new vocabulary words!
You need repetition.
I repeat: you need repetition.
So if you're already nailing what you're working on now, dare yourself to spend a few minutes reviewing something you've already done.
And then review it again the same week. Review the same thing three times a week and see how it adds to your learning.
*
Stay tuned for the Part 2 tomorrow! You can get these posts automatically when you sign up for the blog posts; sign up below.